12 Best Practices for Better Virtual Sales Calls
I have to admit I've been a broken record recently — I sit down to write and, time and time again, find myself talking about how much marketing and sales have changed and will continue to. 
"Marketing is a lightning-fast field," I say. "What worked yesterday, may not work tomorrow." 
It's repetitive, but hey, it's true. 
COVID-19 and the resulting remote and hybrid work environment have forced even technology laggards online. 
Taking sales conversations, purchasing, and showroom experiences all online have been massive pivots — but when you break it down, successful virtual sales calls are more about preparing and adapting to tools than your actual sales behaviors.
To help, let's talk about:
Benefits of Virtual Sales Calls 
While for many virtual sales calls may not have been a choice, that doesn't mean they are without their benefits. 
Virtual sales calls remove all geographical barriers you may have to meeting. There's no need to be in the same room; you can meet with stakeholders across different time zones and borders. This also gives you more flexibility on when all the relevant parties can meet.
Virtual sales calls also give you the ability to record the call. This way you can keep it on record and review it at a later time and it can also be sent to prospects for their reference as well. 
12 Best Practices for Better Virtual Sales Calls
Before the meeting
You can't bank on your winning charm alone to close a deal.
Although all of us are likely a little more forgiving of this "new normal" of working from home or hosting virtual meetings, you should still be doing all you can to mitigate interruptions and put your best virtual foot forward.
1. Secure the right video equipment
Before you book your next video sales call, you need to have the best virtual set up. In some instances, this may mean securing some new tools and equipment.  
Lighting 
When you're hosting a virtual meeting of any kind, you can't afford to have distractions. Lighting can be a major one. 
Rather than listening to what you're saying, when you're dealing with poor lighting, prospects may be thinking they can't see who's speaking or what they're speaking about.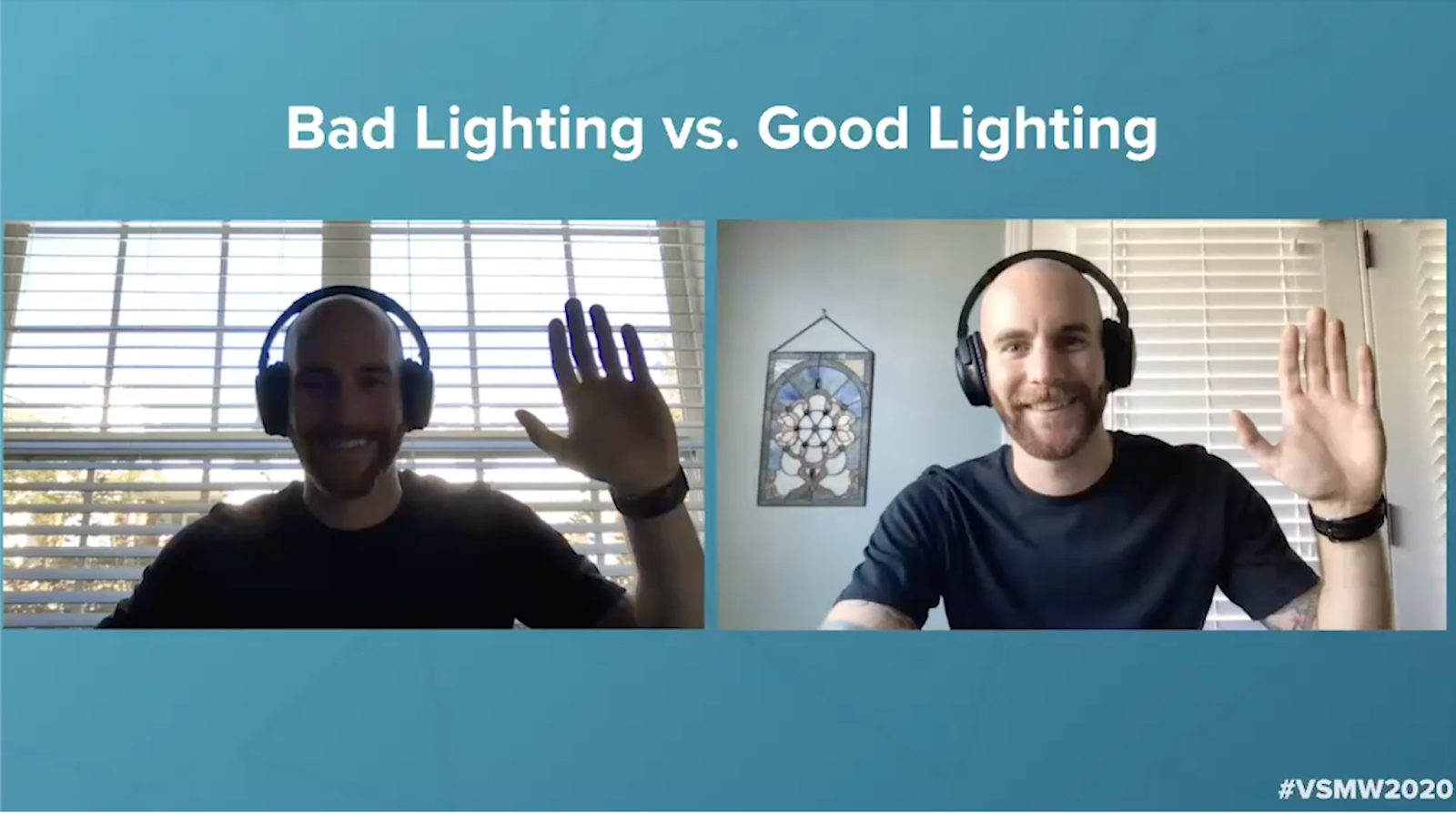 That means you need great lighting that is consistent, bright, but not too washed out. Bright, natural light helps make it easier for a viewer to see your subject and creates a positive, approachable ambiance. 
If you're just starting out and have a limited budget, this can be accomplished a few ways:
Buying a webcam that has a light attached to it
Positioning your desk near a natural light source
Using a standalone lighting attachment for your computer 
You can even just stand in front of a window for soft natural light, which we do frequently in the office, but if you have a budget, invest in a ring light. 
Video
On a video sales call, you want your camera quality to be crisp and clear — not something that looks like you're coming to someone live from a cave in the mountains.
Some folks on our team have a DSLR setup, while others — with the help of great lighting or other factors — can rely on their system camera or a web camera like one from Logitech.
If you want to go the DSLR route, IMPACT's Lindsey Schmidt loves using the Panasonic GH5.
This and other DSLR cameras will give quality similar to what you see on television for a fraction of the price. 
It will run you about $1,800-$3,000 for just the body of the camera, so I don't recommend it just for hosting sales calls, but if you're looking for something multi-purposes, it's also great for capturing interviews or b-roll for your video marketing. 
Audio
Again, your built-in computer microphone may work just fine, but if you have a busy household (or have any general sound concerns) invest in a great mic or headset solution.
Blue Yeti microphones are a popular option among our team and many podcasters, but any option that will help you cancel out noise, deliver your voice clearly, and avoid distractions will do. 
2. Set expectations and your agenda
Before you get down to the nitty gritty of your upcoming sales call, you need to know what you're talking about. 
Take some time to create an agenda. 
What questions do you need to answer? What points do you need to communicate? What documents or assets do you need to share? What's your end goal?
Determining your purpose and agenda for virtual sales calls helps you stay organized, prepare, and also sets expectations with the prospects you're meeting with. 
With an agenda, prospects know exactly what to expect when they get on the call with you. Plus, by sharing it in advance, they can make amendments or ask questions to ensure the meeting is mutually beneficial.
You can also use your agenda to set the expectation that all attendees need to be on camera. 
Here's how IMPACT partner Marcus Sheridan recommends you approach this with prospects who may feel a little camera-shy at first: 
"For this meeting, it's critical that we both have our cameras on. You need to see me clearly and get to know me. At the same time, I need to see you, especially because what we're going to be discussing is very important. And if you're not fully understanding what I'm explaining, I need to be able to notice that, as well. Will you make sure your camera is on?"
3. Send a tutorial on how to use your video solution
No matter how common video conferencing has become, do not immediately assume that your prospects know how to use whatever your preferred platform is. 
That said, in addition to your agenda and meeting link, include a personalized one-to-one video that explains to someone how to join your call. 
Vidyard's free Chrome browser extension is a handy tool for creating this.
The great thing is that you can record this video once and share it with any prospect, as long as you don't include a ton of personalized details in it.
4. Prepare your background and environment
When working remote, we don't always have the best options for backdrops. 
Still, I don't care if you're going to be broadcasting from your basement, your kitchen table, or a straw hut on some faraway island, you need to make your best effort to create a space that is neat and free of distractions. 
When you're choosing where you're going to be for video sales calls, here are a few things you'll want to keep in mind:
If you're not able to invest in a lighting solution, pick somewhere well-lit. Facing big windows that let a lot of natural light in are a good option.
However, avoid large, road-facing windows to minimize outdoor traffic and neighborhood noise leaking into your call.
Preferably, be in a private room to avoid foot traffic, ambient noise, disruptions, or background distractions. 
5. Confirm attendees in advance
Once you send out your invite and agenda, one to two days ahead of your call, reach out to make sure everyone is still all set to join, and confirm whether or not anyone else needs to be invited. 
It's important to know exactly who you'll be addressing so you can frame your talking points around their interests. 
6. Practice your presentation with a teammate
Every prospect is different. So, while all your sales calls may follow a similar format, every presentation you give will inevitably be a little different. 
Knowing this, make sure to rehearse or roleplay the conversation before the big day. Pull in a teammate to listen in and play the role of prospect. Doing this will help you better anticipate and prepare for common objections and also help you perfect your presentation. 
You can also use this time to rehearse when slides or visuals would be useful. Screen sharing during a virtual sales call often means your face goes away, so you'll want to use these at a minimum (more on that later). 
Practicing with a teammate will help you determine where it's best to add a visual aid and where you can do without.
During the meeting
7. Ensure you're fully in frame
More than likely during a sales call, you want to be the visual focus. You're presenting after all!
With this in mind, try to keep your camera at about waist or chest height. This is a great height to create the experience of an intimate conversation and allow people to see your hand gestures and body language.
Tools like a laptop stand or tripod can help accomplish this, but you can also consider simply placing your camera on top of a stack of books or sitting on pillows to raise yourself up as demonstrated in the photos below.
With pillows vs. without
You'll also want to place yourself in the center of the frame, unless you're presenting content on the screen simultaneously. All of these tips will help you appear professional and not leave a participant wondering what they can't see off-screen. 
8. Make your buyer the hero
Now on to actual presentation tips.
Remember, your sales call is not about you. It's about your prospect and getting them to see the value you can offer them. 
In other words, they don't care about you; they care about what you can do for them. Your sales call needs to be cognizant of this and make them the main character of your presentation, or as the StoryBrand framework says, it needs to "make your audience the hero."
This means talking about their pain points, problems, and interests. Use the first few minutes of your presentation (or slide deck) to dive into the problems they're facing and what they're experiencing. 
This will not only resonate with them right off the bat but show you truly understand where they're coming from. 
9. Don't do all the talking
When it comes to sales conversations, IMPACT's Chris Duprey says "Your slide deck isn't the thing, the conversation is." In other words, your presentation isn't as important as the conversation that spawns from it.
So, don't do all the talking. Ask and answer questions. Listen to what your prospects have to say as the call progresses. Maintaining this dialogue is how you'll both get the most value out of the call and build more of a relationship. 
10. Show relevant proof
During your virtual sales calls, it can be extremely valuable to share relevant case studies or social proof of what you claim you can do for your prospect.
Highlight past clients or customers who overcame similar obstacles, come from the same industry, are the same size, or accomplished the same goals. 
Bringing attention to these case studies will show your prospects that you truly do have experience working with people like them and accomplishing the things they are trying to.
That being said, however…
11. Keep slides to a minimum
Slides are simply there to aid your conversation; not lead or replace them. 
Prospects didn't block out time to mindlessly watch you go through a presentation; they came to engage personally. 
So, don't use slides as a crutch. Only use them when absolutely needed to visualize something you are talking about or to drive home key information. 
It's also smart to share your slides with the prospects before and after the call. This allows them to get familiar with the content beforehand and come prepared with questions for a more fruitful conversation or to review the information after the call has ended. 
After the meeting
12. Follow up with a personal video
Once your sales call is over, include a personalized video in your follow-up email. 
Not only is it more memorable and engaging than text alone, it allows you to continue the human energy and connection established during your video chat into the next steps of the sales process.
It also once again allows you to walk through any of the resources you may send over (i.e. your slides, case studies, etc.)
Note: When you do send a follow-up video in an email, make it known in your subject line. Using the word "video" increases open rates by 19%, CTR by 65%, and cuts the number of unsubscribes by 26%.
Bottomline: Don't rewrite your sales playbook
Aside from the need for a quality camera, mic, and lighting, you may have noticed most of these tips are not all that different from having an in-person sales meeting. 
That's because they're pretty much the same. 
Don't let technology make your question what you already know about sales. Regardless of if you're meeting face-to-face or through a screen:
Prepare and share an agenda with whoever you're meeting with
Make them the hero of your presentation
Show relevant proof
Focus on having a conversation, not a slide deck
Aim to look and sound your best
So, you've got the pieces, now it's to put them into action. Here's what you can do right now:
And last but not least, if you need more hands-on guidance, talk to an advisor on our team to learn more about how we can help.